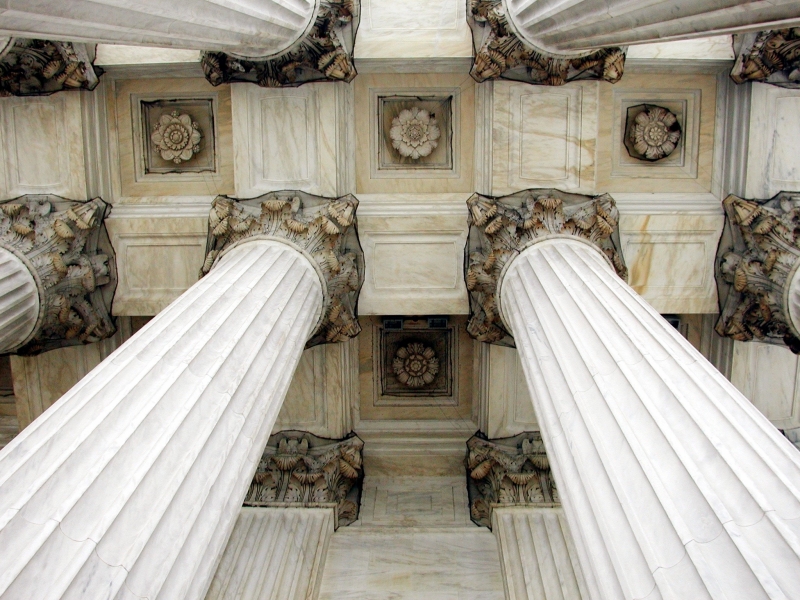 The Supreme Court
of the United States
October Term 2006

A Ratio Juris series



We are pleased to announce Ratio Juris's first series, "The Supreme Court, October Term 2006." Timed to coincide with the opening of the new Supreme Court term, Ratio Juris's Supreme Court series will discuss the Court and what to watch for this Term. We also invite you, our readers, to contribute not just comments but also guest posts about particular cases pending before the Court this Term. Please direct all correspondence about this series to
Ratio Juris's masthead
.
To get started, let's recap what the morning papers are saying about the new Term. Linda Greenhouse over at the
New York Times
writes that this Term is likely to be the first true "test" of the Roberts Court. Last Term, she says, the "justices were able to find common ground with some regularity by agreeing not to decide much." She predicts that this Term will be different.
Greenhouse identifies several important cases that will "define the new Court in both substance and style" including
Gonazles v. Carhart
, the "partial birth abortion" case that will force the Court to reassess Stenberg v. Carhart, a case that - with Justice O'Connor in the 5 to 4 majority - struck down a similar state law six years ago. Greenhouse also mentions
Meredith v. Jefferson County
(challenging a locally initiated school integration program that takes race into account when assigning students to elementary and high schools) and
Philip Morris USA v. William
, a punitive damages case that will tell us whether Justices Roberts and Alito will follow their predecessors Chief Justice Rehnquist and Justice O'Connor in constitutionalizing punitive damages limits, or will instead vote with Justices Thomas, Scalia and Ginsburg in refusing to do so. Finally, Greenhouse discusses two air pollution cases,
Massachusetts v. Environmental Protection Agency
and
Environmental Defense v. Duke Energy Corporation
, in which states and environmental groups are challenging the Bush administration's approach to motor vehicle emissions that contribute to global warming.
The
Wall Street Journal
adds three business law cases to Greenhouse's list:
KSR International v. Teleflex
(testing the meaning of the "obviousness" doctrine in patent law);
Bell Atlantic v. Twombly
(examining the scope of antitrust laws and price-fixing claims) and
Weyerhaeuser v. Ross-Simmons
(an antitrust cases looking at claims of "predatory bidding").
Other Court stories in the news this weekend include
a New York Times story
about a Catholic mass held yesterday in Washington, attended by several Supreme Court Justices, celebrating the "resurgence of faith in the shaping of public policy" but steering clear of "overt talk about issues the church has championed", and several entries at the
WSJ law blog
(one quoting
this Time Magazine interview
) about Justice O'Connor's mission to promote and protect judicial independence.
So, a few questions: are there important pending cases that the media stories this morning missed? Is the fact that 5 of 9 Supreme Court justices are Catholic relevant or newsworthy? Is Justice O'Connor correct to stress judicial independence in her post-Court career?